After a 2-day trip to the Beach Resort Ho Tram and a dinner in one of the best Restaurants in Saigon, the Mandarine, we are back in Saigon. At the moment I am sitting at the working desk in my room in the Park Hyatt Saigon right in the center of the city. When I open the shades I am overlooking the pool.
I decided to write this post in english to let my travel colleagues know what I am talking about as I will mention them. Switching back to german next week.
So Emirates Airline invited us to Vietnam to experience their inaugural flight from Dubai to Hoh Chi Minh City on Monday, the 4th June. When I am home I will give you all the details about the flight itself, the Emirates press conference and the huge Gala Dinner afterwards!
So this is our group. Thanks to our guide Ving who took the photo while we were having a snack in the Cu Chi Tunnels.
When I had a look at the weatherforecast before I left Cologne heading first to Dubai and then to Hoh Chi Minh City it said '4 hours sun per day'. I wondered. But it is a fact, in this season you won't see the sun very often. The sky is grey in the mornings, in the afternoon it starts to rain. It is dark at around 18:30 pm. In the middle of the hot & wet season. Which is not that bad, just freaking hot and humid. In the morning the temperature is about 30 degrees and 80% humidity, the rain cools it down a bit and a slight breeze clears the air. But leaving the hotel in the morning feels like standing in front of a turbine. In Saigon we move around in an ac bus – which is of course great – guided by Ving.
In the last few days I experienced so much I am very grateful for! To be honest, sometimes I feel like being in a movie. Stumbling into a scene and jumping out again. I must admit I had never imagined that Saigon really is like this. So huge, so poor. There is so much to see, so much to ask about.
Ving and his driver make us feel save while being on the road in Saigon and the outskirts on absolutely crowded streets for hours. In the last two days we made our way 125 Kilometers up north and back to get to a very special beach resort. Makes a 3-4 hours drive one way by bus.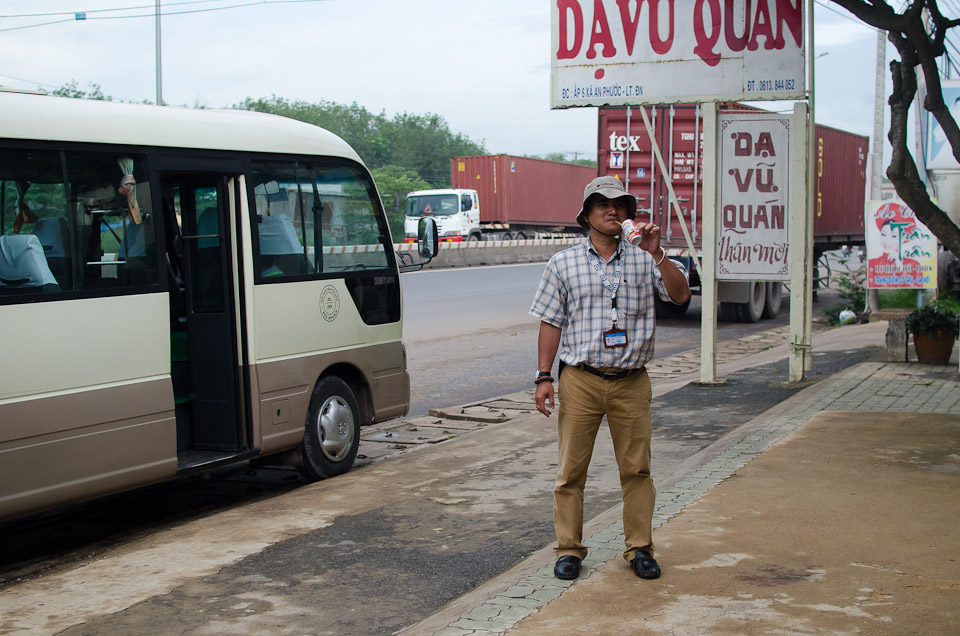 I loved being on the road, driving through the streets of Saigon and watching life go by. I snapped photos permanently. It took us an hour just to leave the city. A city of 9 Million people at least. The traffic is chaotic. There are millions of motorcycles on the road. Sometimes with just the driver on it, sometimes with a whole family. Sometimes they have a new born baby on the bike, sometimes a whole bed. The go both directions on one lane. Sometimes there are women on the road selling stuff. And you can permanently hear some horns. I noticed our driver didn't blow the horn once. I am working on a motorcycle photo story.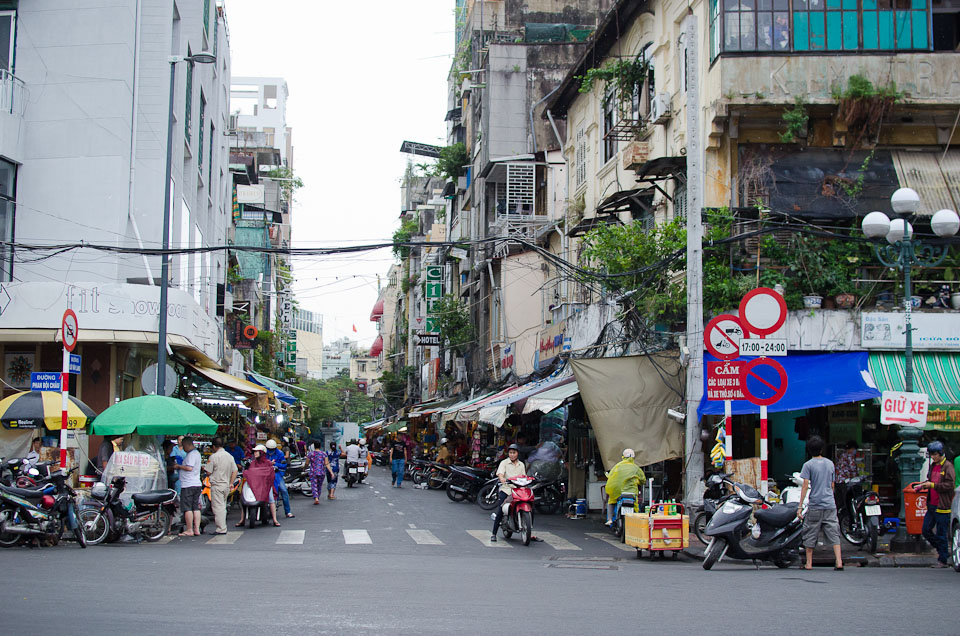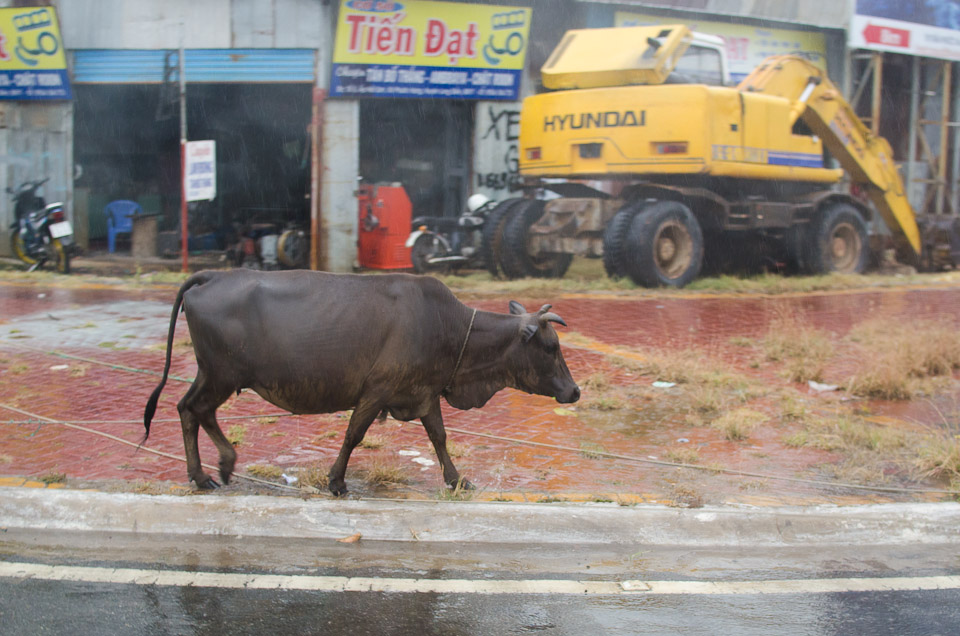 Reaching the outskirts of Saigon the small houses turned in garages then barracks. Most people spend their time sitting outside trying to sell their goods to make a living. They sell fruits, bread or coconut drinks. Everything. I saw some clothes shops with brightly colored evening dresses right in the middle of nowhere.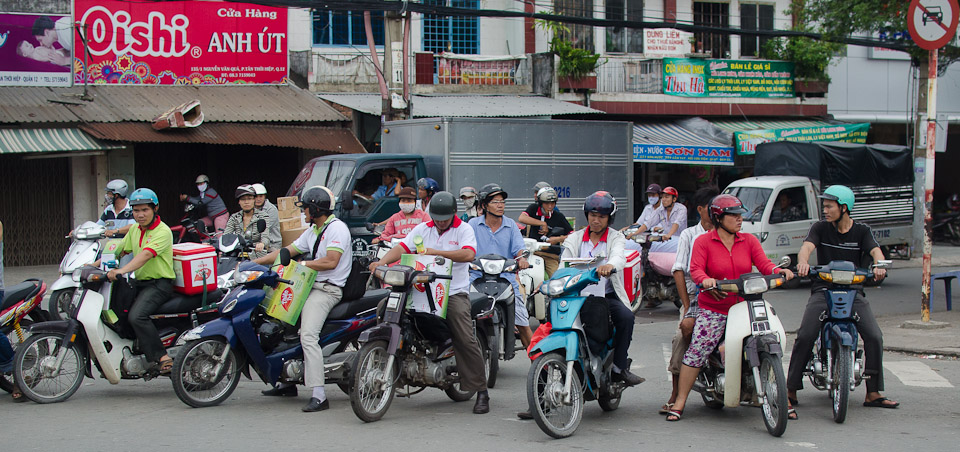 Driving on that highway up north the houses were still built very close to the road. Small kids were playing just a few meters away from the roaring traffic. Most people wear masks to protect themselves from the pollution. And I would say 90 % really wear helmets. Well, the adults wear helmets. Kids younger than 6 just don't have to and most don't get one.
Our first stop on that trip to Vung Tau Beach were the Cu Chi tunnels. A huge tunnel system which was being built 1948. Then the vietnamese did hide in during the War. The system consists of 3 floors with very tiny entrances made for the tiny vietnamese so the americans could not get in. It is 250 km long – all built under the ground!
The first one was 3-4 meter under the ground. Up to 10.000 people could hide in there! The Americans tried to destroy the tunnel system – tried to flood it, put gas in, B 52 Bombers threw bombs on it. It did not work. So today Cu Chi is a huge tourist attraction. An entertainment park tourists shall experience. It was very interesting to visit. You can see how they lived in those times and feel how exhausting their work and hiding under the earth must have been – because you are sweating just walking through the forest.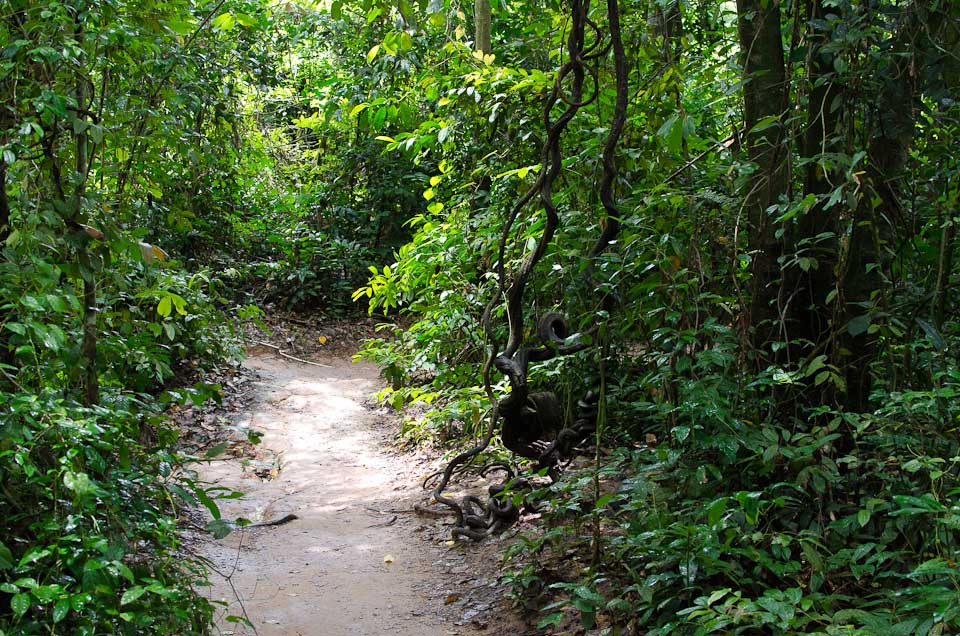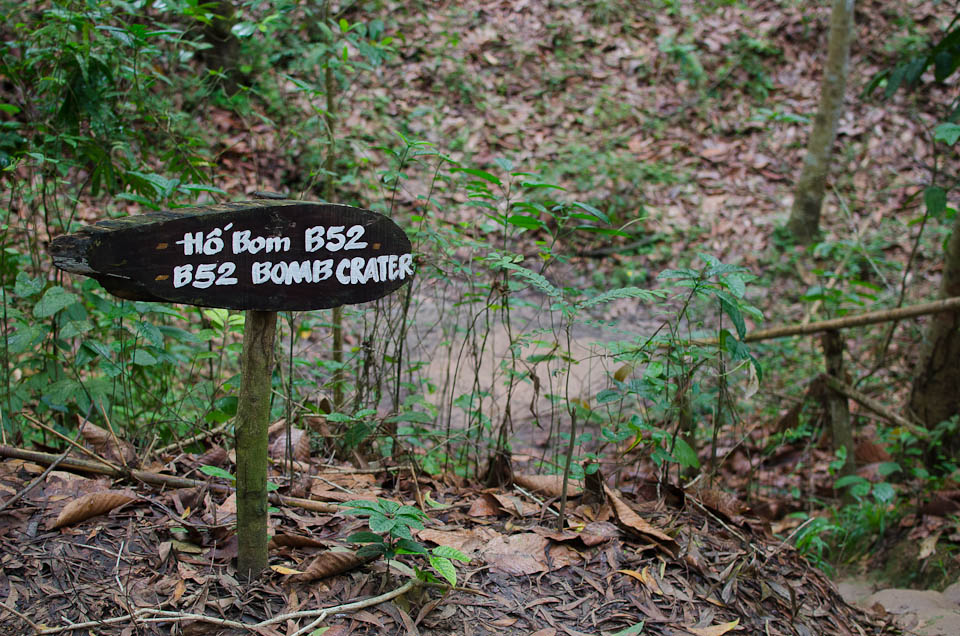 You can learn how they made their weapons, see the traps they set up in the jungle, you can even shoot an AK 47 on a shooting range to get a feeling for the weight of that weapon the vietnamese people carried. And the tourists shoot a lot at that driving range.We didn't. So walking through the park you can permanently hear the sound of gunfighting.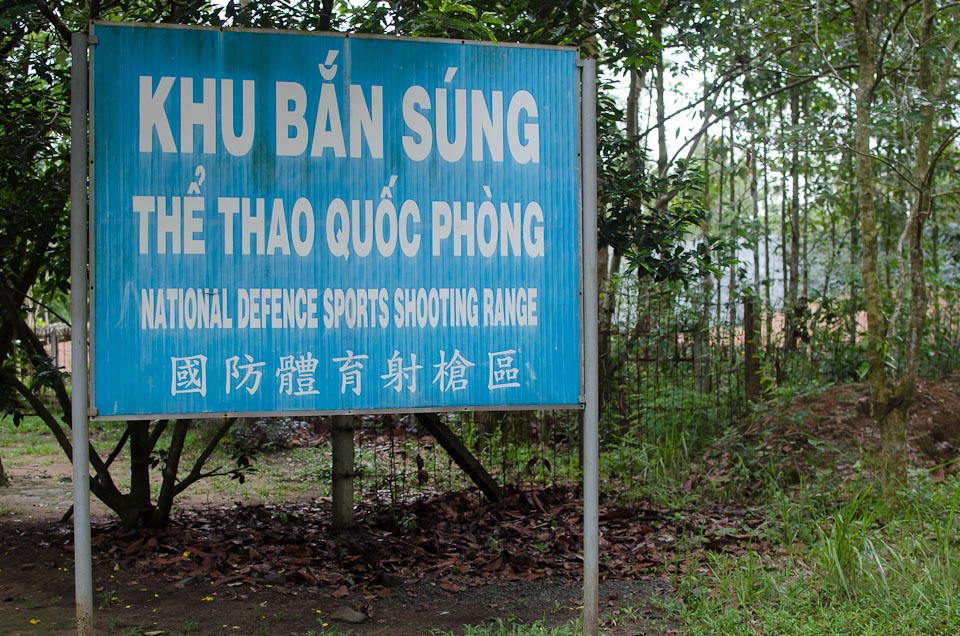 But you can climb down in one of those tunnels which was prepared for tourist. They made it much much bigger than it was during the war so that everybody fits in. But it still is very small. Our group went in. Except me. I just didn't feel like crawling through a tiny tunnel.
Jumana, a very nice journalist working at the newspaper 'Gulf News' in Dubai, climbed out of the tunnel and was high on emotion afterwards.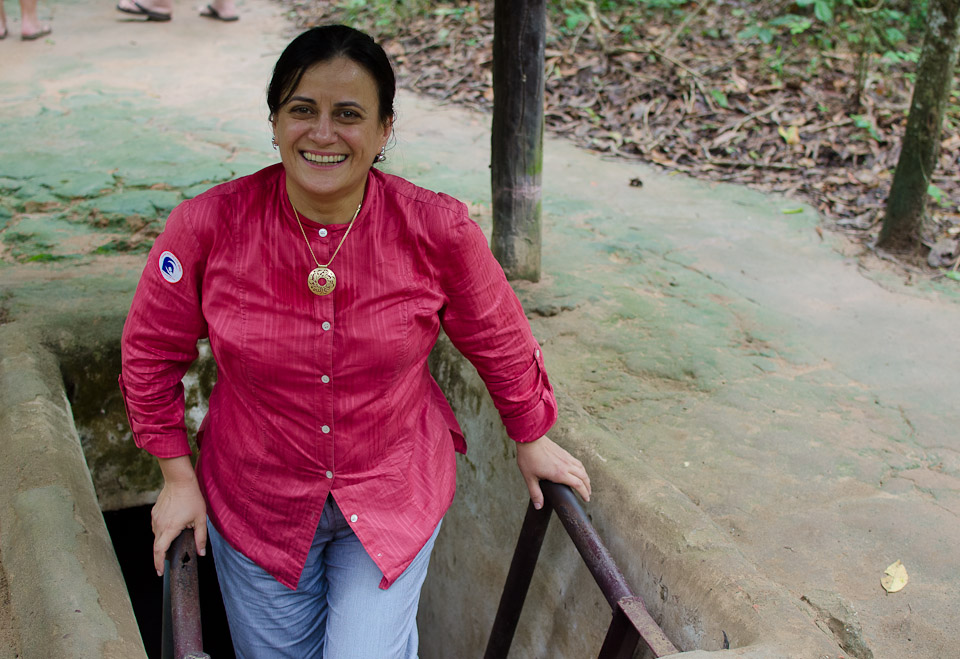 She tried to drag me into several tunnels and tried to persuade an american in as well. And kept telling me I would miss a lifetime espercience because "You will never come back here". And she was right. I am already kicking myself that I did not dare to go down in one of those narrow narrow tunnels. Jumala by the way is big fun and adds a lot of emotion to our group. She is always so positive you permanently want to hug her.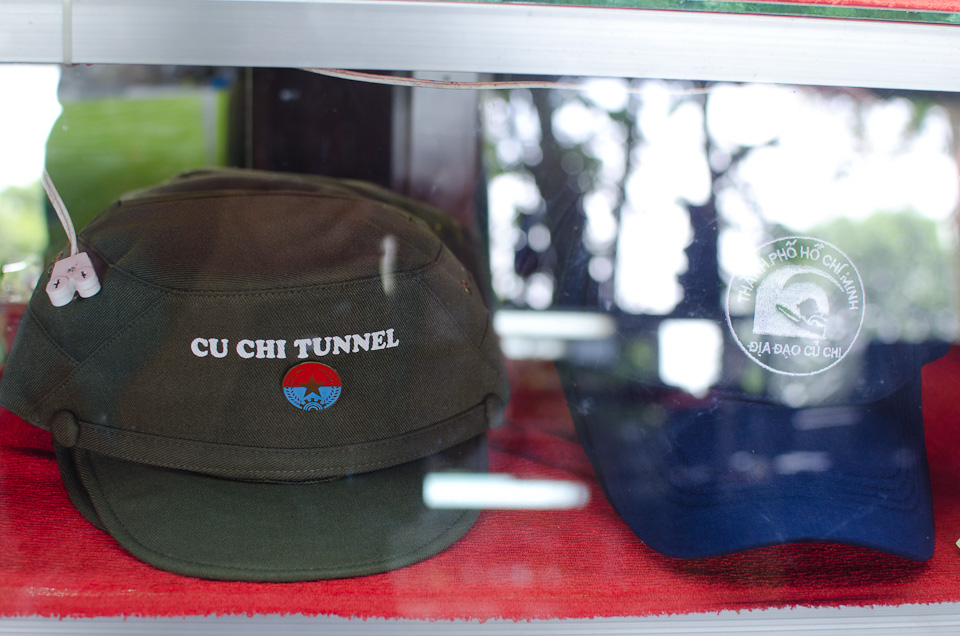 After visiting the Cu Chi Tunnels we had lunch at Ben Nay Restaurant in a perfectly vietnamese setting, on a small island between two rivers.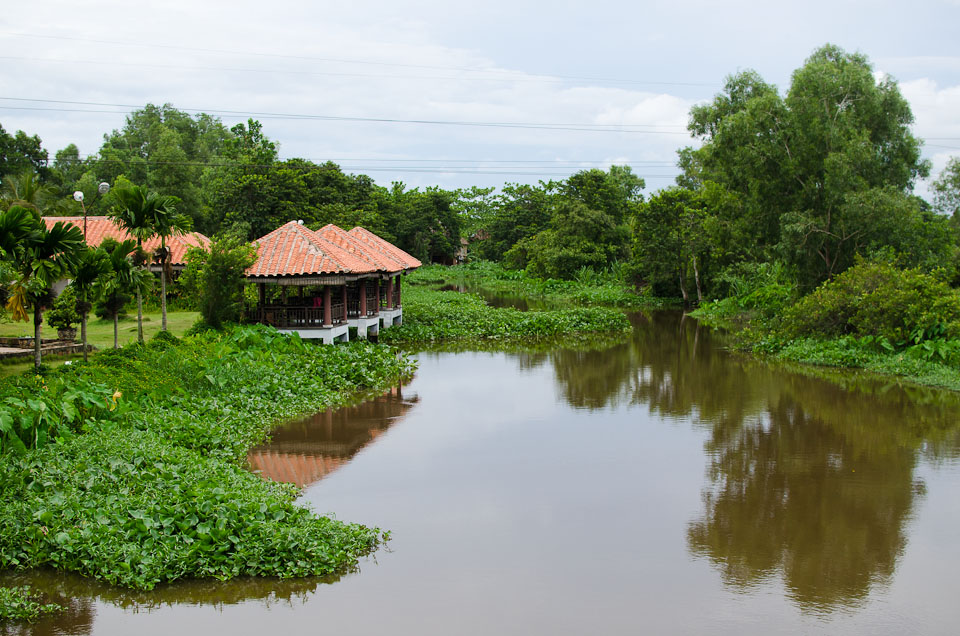 Vietnam and especially Saigon is a as exciting as I had hoped it would be. I met a lot of amazing people so far. Crossing the streets in Saigon IS  possible and you can feel safe wandering around as a lot of special police officers in green uniforms keep an eye on tourists.  You can wander the streets for weeks and would still find great motives to photograph or spot things you thought would not be possible.
I am looking forward to one more day with the group although we are all bit sad that Scott from Emirates had to leave us today already. But we will be accompanied by a nice girl from the vietnamese PR-Agency instead. On Saturday we can explore Saigon on our own. Emirates booked late check out for us on Saturday so we can just hang out in Saigon the whole hot day and take a shower afterwards before boarding the plane back to Dubai.
Disclaimer: A huge thanks to Emirates and Wilde PR for inviting me on this trip! Opinions are still my own.