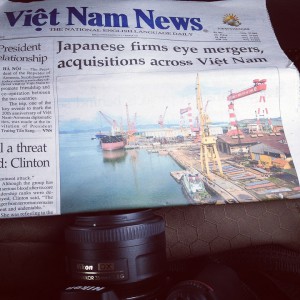 The sky above Saigon was grey again when we got into the bus early in the morning. We left the city for a trip to the Mekong Delta. I was really looking forward to it – and am sure I will never forget this day.
Today I have been on the Mekong for the first time, I tasted freshly made coconut candy which was so gluey that I was afraid I needed to book a date at the dentist, I experienced a ride on a horse trap (the horse was so hard working and thin and had to carry 5 people – but "That is their job!"), I saw a Python (in a cage) and a banana- and coconut tree, enjoyed tropical fruits – oh AND got into a huge Storm in a tiny boat in the middle of the Mekong. 
After a 90 minutes ride we took a boat on the calm Mekong to get to Coconut Island which is situated in the Ben Tre Province. Although the name sounds romantic in a way, in fact it is just to the point. On this island there are many many coconut trees and a large family runs a business producing all soaps, candy, cream out of coconut. Even the little kids are all part of that. So the island itself just consist of a lot of gardens, a small village and a small road. There are no cars on the island. So after learning how coconut candy was made our guide made us hop on that horse cart to the next stop.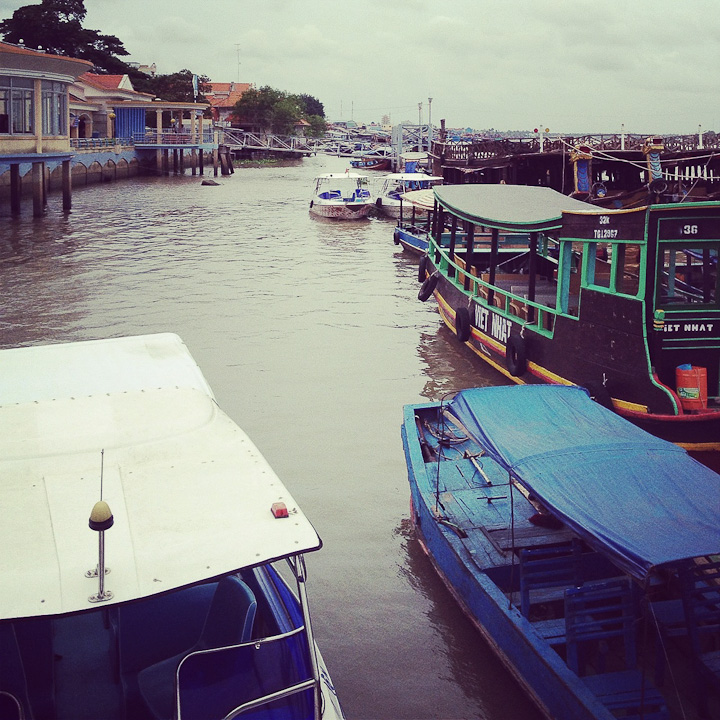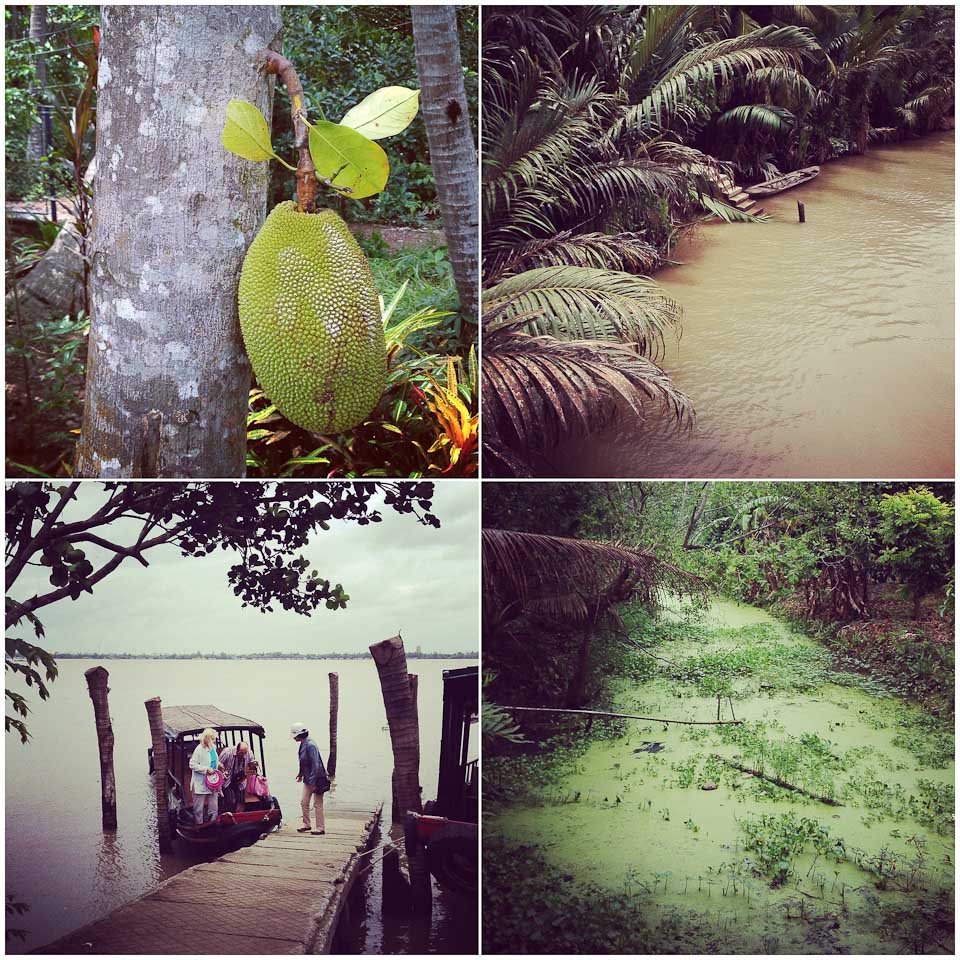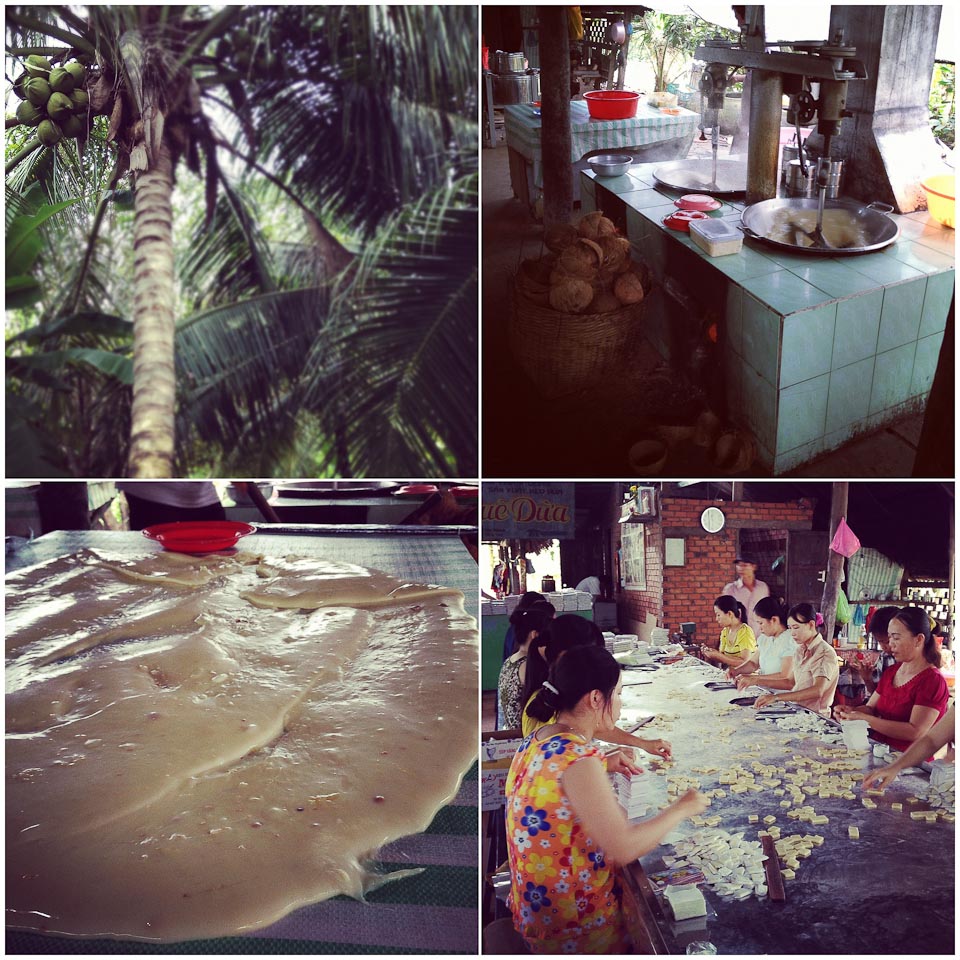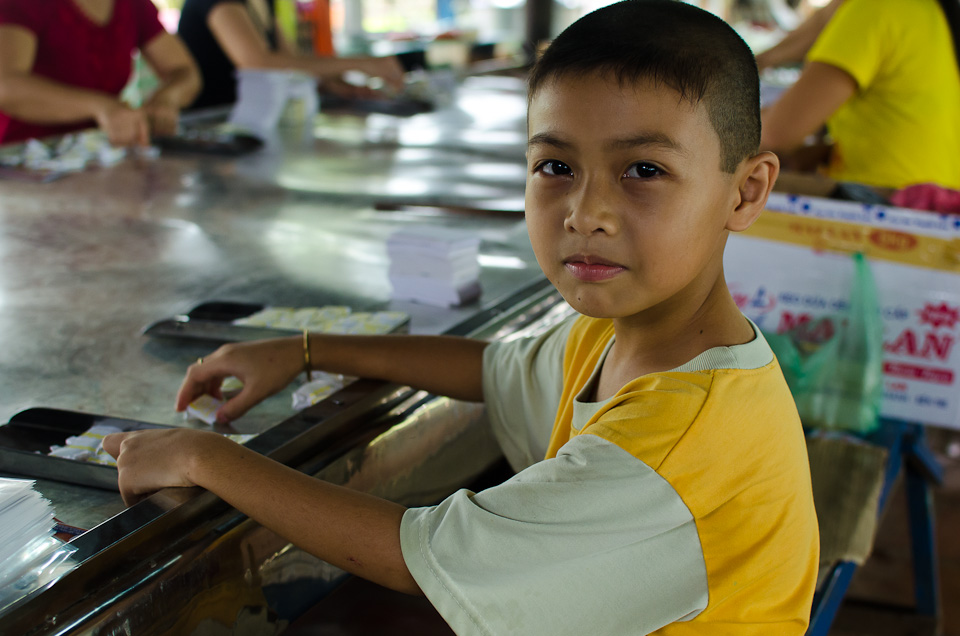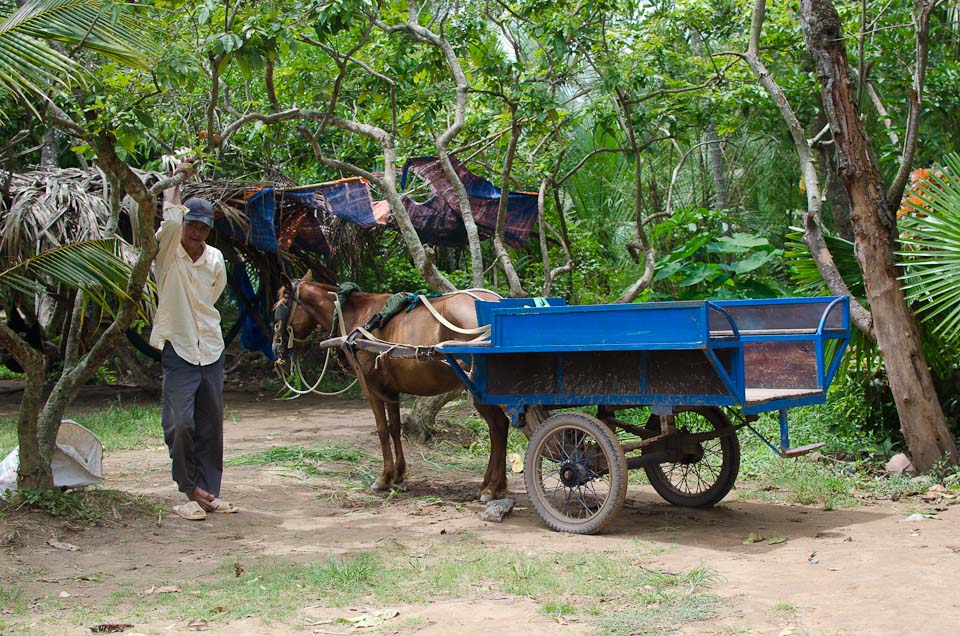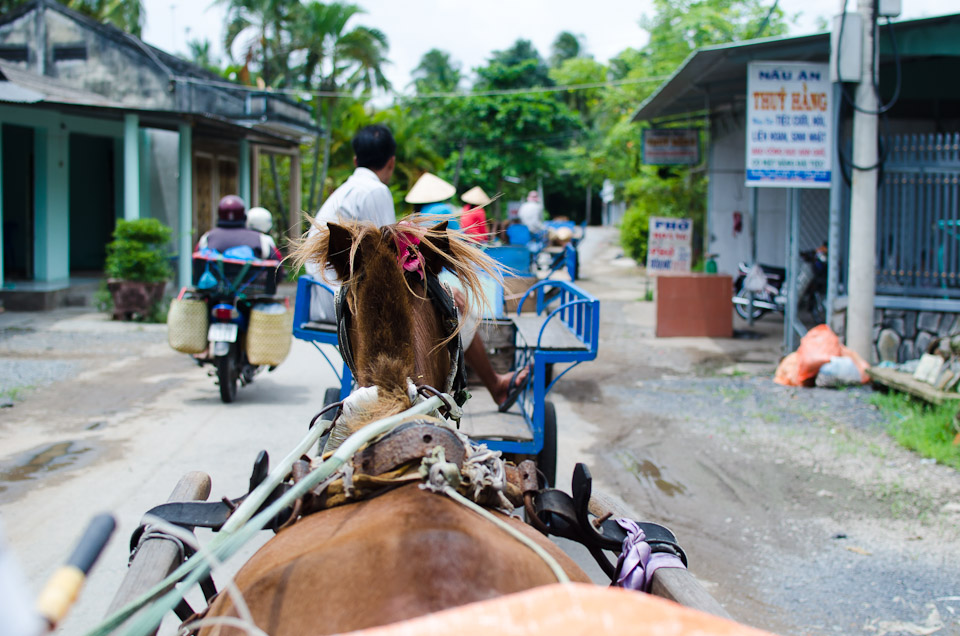 In fact this village and the road was quite charming. Kids, hens, motorbikes, horses – the life was going on on that street. A Snack later it started to rain again as always around midday in the hot and rainy season. So we waited a second and got on those great paddle boats to enjoy a ride on the small waterway through the jungle ending in the Mekong. That was a great moment. Although I didn't trust the boat at first it was fantastic to glide silently through the olive green water, crashing sometimes against the plants on our right.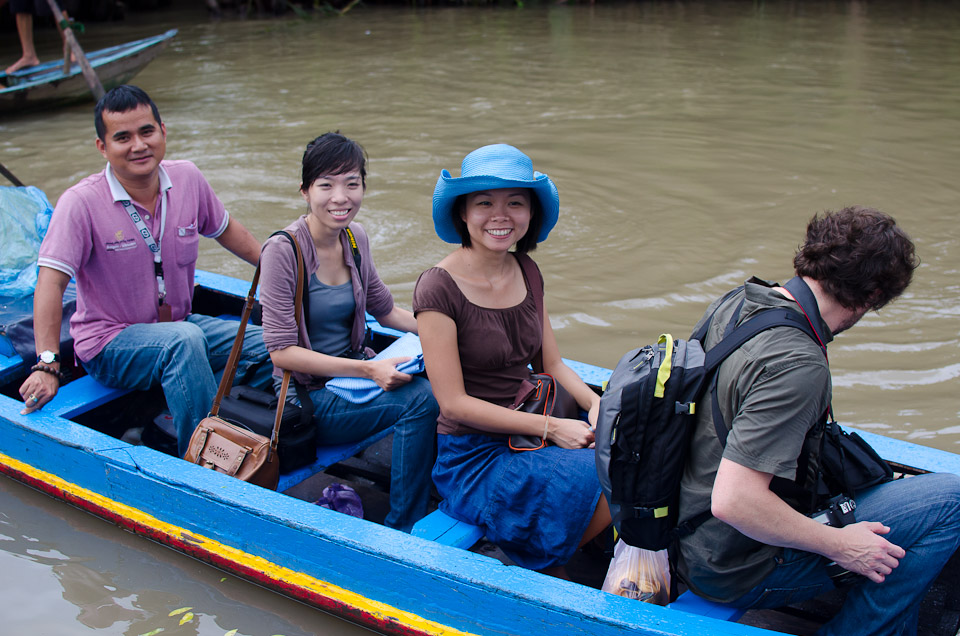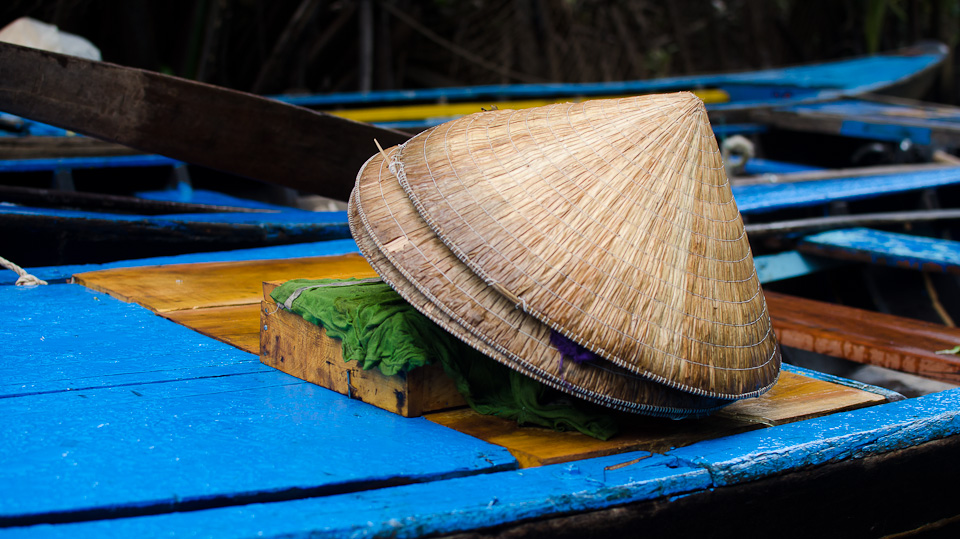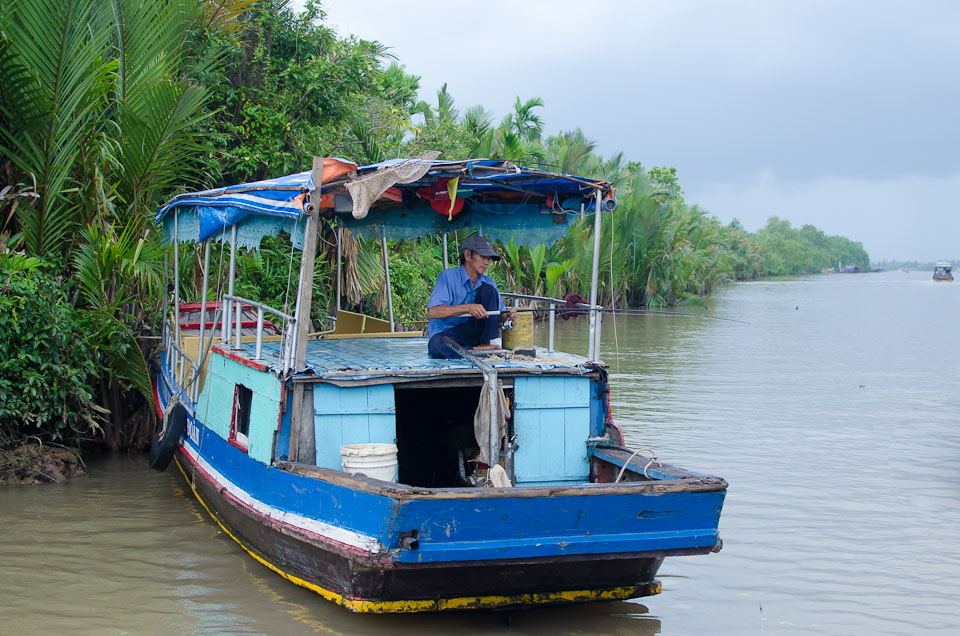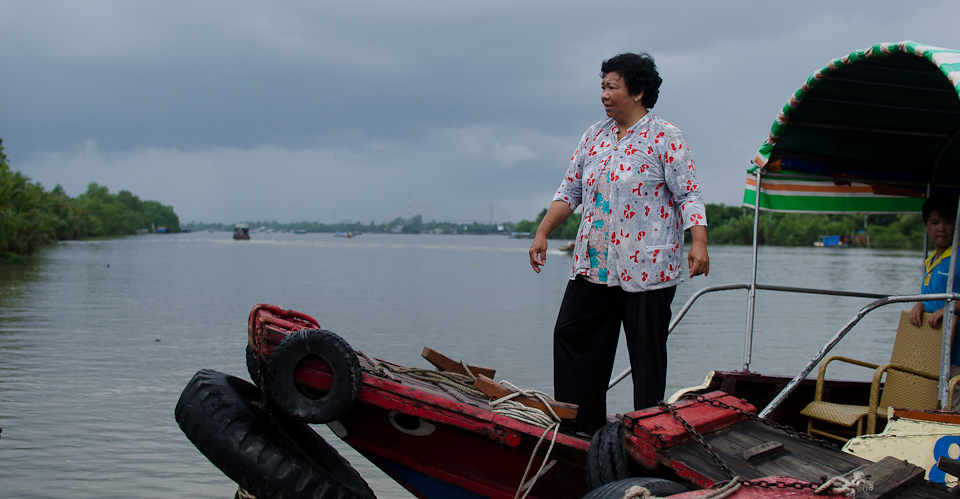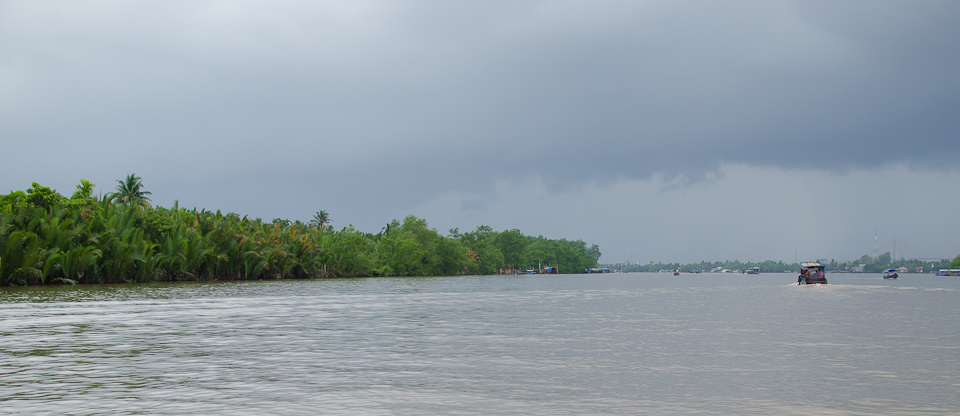 We hopped on our bigger boat to cross the Mekong again. I noticed a black huge cloud in front of us but didn't think it could be a problem for us. Until it started to rain again. The rain got stronger and stronger in seconds, than the wind transformed into a storm. Fun at first, then I got a bit nervous. The boat had no windows to close and the rain set everything under water. We tried to find a place to keep dry but that made the boat tilt to one side. So Ving stepped in and stood in the rain to balance it. That embarrassed me – until I got completely wet myself two seconds later.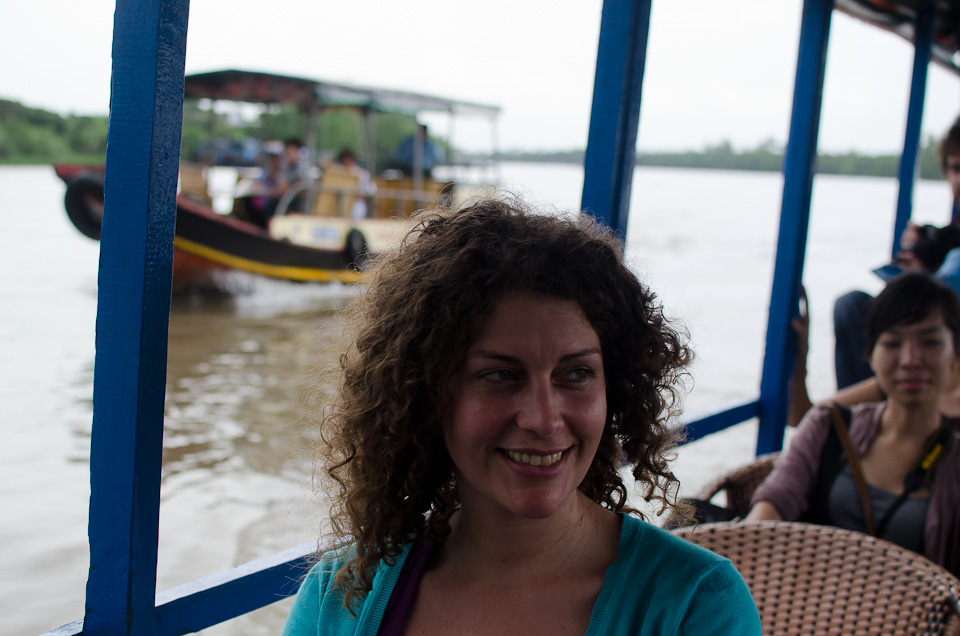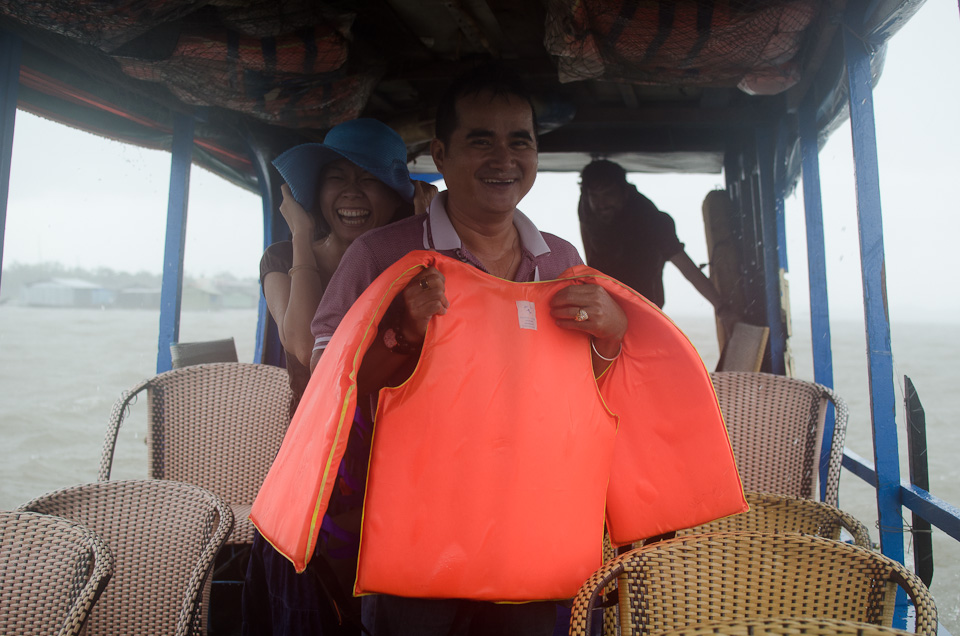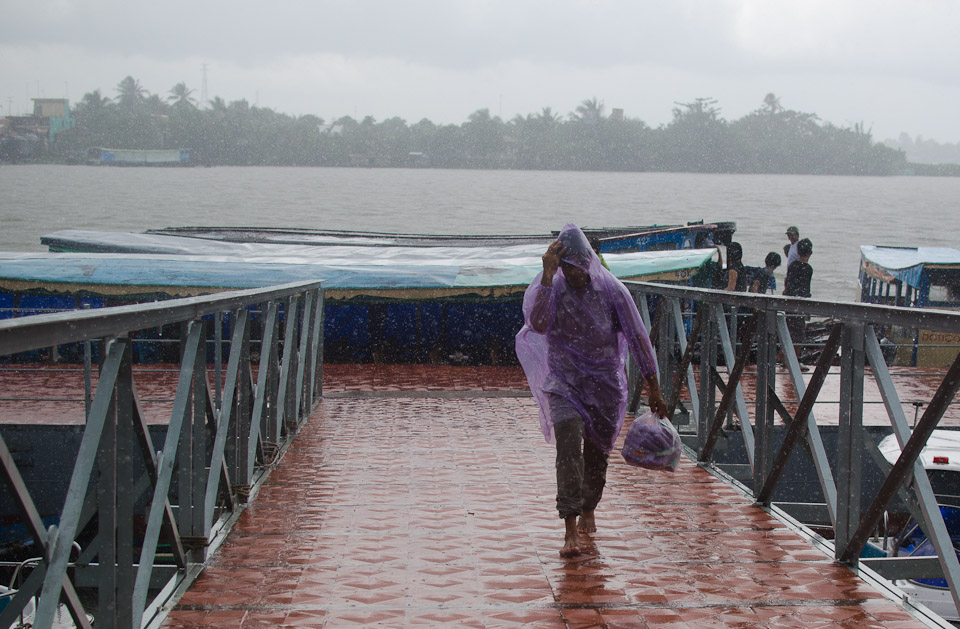 Normally I would try to escape the rain but being stuck on a boat in the storm was a completely new experience. I am glad I brought a bag for the camera. Ving told me that of course those boats are not allowed to close the windows – they would overturn sooner or later. The wind needs to blast through it. Ok. Makes sense. At first it was funny, but there are moments I was not sure if we would reach the bank. But in the end we all just got completely wet, skipped visiting the temple Vinh Trang Pagoda and went straight to lunch in the Mekong Reststop.
I uploaded a short Video that I shot with my very wet Nikon D 7000 to give you an impression of that ride… Cannot embed it right now.
I felt completely cold all over after the bus ride home. I skipped dinner, made a hot bath instead and enjoy the last night in the Park Hyatt Saigon to get some work done.
Disclaimer: Emirates and Wilde PR invited me on this trip to Vietnam. Opinions are still my own.